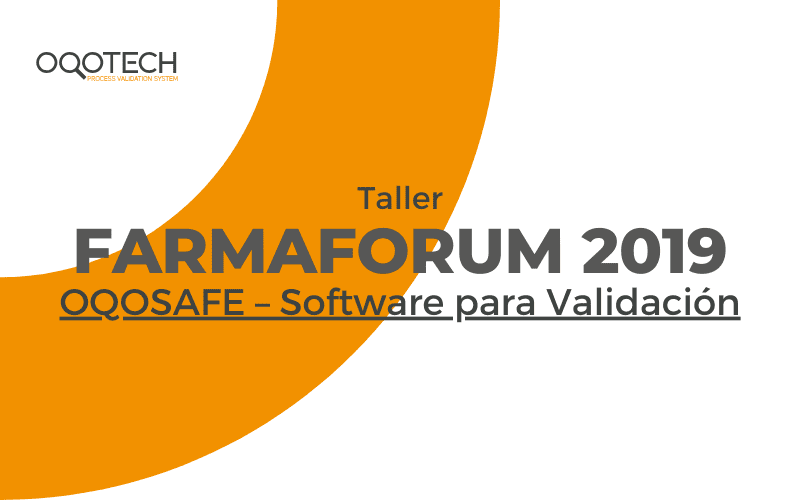 Taller Farmaforum 2019: OQOSAFE – Software para Validación
On March 28th we will give a practical workshop at Farmaforum in which we will show how OQOSAFE – Software for Validation of Regulated MS Excel Books (GxP – FDA) works

The 6th edition of Farmaforum will take place this year on March 28th and 29th in IFEMA, Madrid.
From Oqotech we actively participate again in this forum -a must for professionals in the pharmaceutical, cosmetic and laboratory technology sector- giving a practical workshop in which we will show the functionality and applications of OQOSAFE – Software for Validation of Regulated MS Excel Books (GxP – FDA).
More than 10 years of experience helping companies in regulated sectors such as pharmaceuticals, cosmetics, medical devices or foodstuffs to computerize processes and validate computerized systems has allowed us to know first-hand the needs of the industry and to develop a software tool that provides Microsoft Excel spreadsheets with functions such as Audit Trail, electronic signatures and password protection for compliance in GxP and FDA environments.
OQOSAFE provides the necessary functionalities to Microsoft spreadsheets to ensure compliance with the requirements of control bodies in an agile way, without changes to existing spreadsheets and with an easy and fast implementation.
Some of the main features of OQOSAFE
Full compliance with European CFR 21 Part 11 and GxP requirements for spreadsheets/Excel: password protection of spreadsheets, tracking of all data changes with real-time Audit Trails, definition of access rights with user-level security, secure data with electronic signatures.
Search engine with customizable results.
User administration tool.
If you want to see a live demonstration of how OQOSAFE works and ask questions to our colleague Mayte Garrote -CTO and workshop speaker-, sign up for our workshop at Farmaforum:
Workshop's card:
Title: OQOSAFE – Regulated MS Excel Book Validation Software (GxP – FDA)
Date and time: March 28th, from 15:30 to 17:30.
Place: Workshop Room 1, Pavilion 8, IFEMA Madrid.
Speaker: Mayte Garrote, CTO in Oqotech.
Registration: Farmaforum 2019 Workshop: OQOSAFE – Regulated MS Excel Book Validation Software (GxP – FDA)
Workshop Program:

MIcorsoft Excel spreadsheet validation requirements.
Presentation of OQOSAFE, a tool to centrally manage the organization's regulated excel sheets with controls and functions for GxP and FDA compliance.
Live demonstration of the controls provided by OQOSAFE and how they work.
Don't miss this event which is a meeting point for the industry and come and meet us!
If you can't attend the workshop or want to know more about Ooqsafe and ask us questions on the day of the workshop, on our Youtube channel you can watch the video of one of our webinars where we give a live demonstration of OQOSAFE.