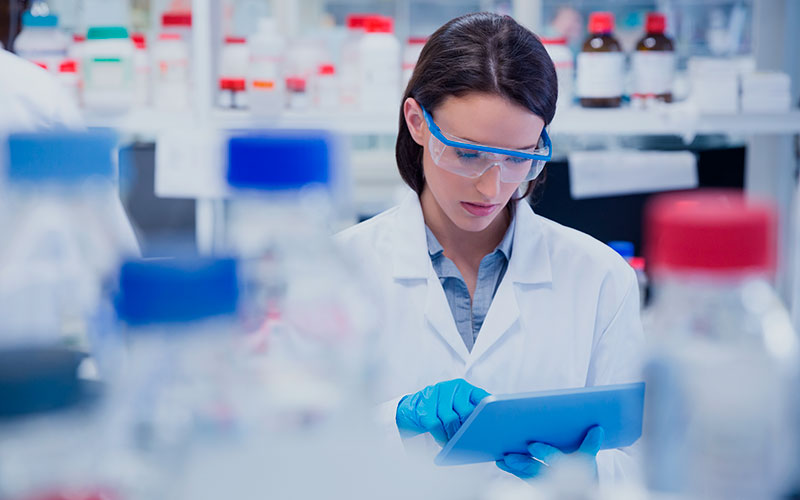 ISO 22716 - Good Manufacturing Practices for Cosmetics
ISO 22716, the international standard defining Good Manufacturing Practices in the cosmetics production industry, is aligned with the provisions of Regulation (EC) 1223/2009.

Ensuring the safety of cosmetic products has been in the focus of regulatory bodies in recent years, publishing various regional and international regulations.
In a globalized environment where supply chains are increasingly long and complex, problems of lack of control and supervision often arise, accentuating concerns about the quality and safety of cosmetic products. In addition, consumers are increasingly aware of the importance of the safety of the cosmetic products they use.
Therefore, the International Organization for Standardization (ISO) published in 2007 a guide on the safe manufacturing of cosmetic products under a good manufacturing practice (GMP) format: ISO 22716.
(This standard was last revised and confirmed in 2017, so the 2007 version is kept up to date).
ISO 22716 – The importance of the standard
ISO 22716 provides a comprehensive approach to a quality and safety management system for those involved in the manufacture, packaging, testing, storage and transport of finished cosmetic products.
The importance of ISO 22716 is that it combines the benefits of GMP, linking the safety of cosmetic products, with the business improvement tools conferred by cosmetic product safety certification that enable organizations to meet global consumer demand.
The result is an auditable international standard that specifies requirements for cosmetic product safety management systems by incorporating the elements of GMP and risk assessment in combination with a quality management system.
In addition, the standard is structured on the basis of other quality management systems – such as ISO 9001 – which ensures smooth integration with other existing systems.
ISO 22716 – Good manufacturing practice for cosmetic products
Organizations committed to the standard follow defined practical guidelines for the management of human, technical and administrative assets that impact product quality.
The standard is closely related to social responsibility since it requires efficient management for all stages of cosmetics production, which guarantees the consumer a safe, quality product and, above all, one that is free of health risks. (Although it should be clarified that it does not address issues related to the health and safety of plant workers, nor those covering environmental protection).
ISO 22716 can be considered to be structured on the basis of five core elements:
The quality management system of cosmetic products and the organization
ISO 22716 emphasizes the following aspects:
Establishing and maintaining a base of qualified personnel who are well trained and capable of producing safe products consistently.
A clear description of the tasks and responsibilities of all personnel in the organization.
The establishment of effective internal and external communication channels to ensure the participation and commitment of staff at all levels of the organization.
All aspects of the quality organization must be established based on a controlled documentation system.
In practice, this implies that the Quality Unit of the organization must be independent in its decision-making process from the production unit. This can be established through organizational charts. The organization chart must be a single document (controlled version) and be signed and dated by top management. The individual job descriptions of the Quality Manager and the Operations Manager must be published and also signed by their respective managers.
The job description of the Quality Manager must contain clear references to the responsibilities and authority for quality issues.
Facilities and equipment
The proper design of the manufacturing, storage and quality control areas is also a key element and well described in the standard:
Facilities must be fit for the purpose to allow proper access and flow of materials.
There must be clear segregation of manufacturing and storage activities.
Adequate cleaning and disinfection are important to prevent the occurrence of cross-contamination.
Scheduled maintenance of facilities and equipment, as well as frequent calibration of measuring devices, should be carried out in order to perform production tasks according to defined and predetermined manufacturing, packaging and storage parameters.
The organization's quality unit must be heavily involved to approve and evaluate all changes that occur and allow an objective view of the results obtained.
In practice, the company's management should support and encourage the company's GMP accreditation through:
Establishment of quality KPIs that are regularly reviewed and updated. Frequent management review of facility compliance with GMP standards demonstrates that their commitment to quality improvement is serious.
The responsibilities of all personnel should be clearly defined in written job descriptions. It is important that personnel working in manufacturing and quality laboratories are aware of their duties and report any irregularities in normal processing to allow prompt action in the event of deviations.
Product manufacturing and materials management
Organizations implementing ISO 22716 must establish quality criteria during the different stages of manufacturing:
Specifications for purchased raw materials, components, and packaging materials
Establish the criteria for process controls and release parameters of starting materials, intermediate products (cosmetic ingredients) and finished products, following a clear designation of the quality status of these materials throughout the operations supply chain.
Suppliers of sub-contracted processes, external transporters, and packaging units should be included in the organization's quality efforts.
The implementation of changes in the quality status of starting materials and (intermediate) products is the sole responsibility of the Quality Unit, and for this reason, this unit must be fully integrated into the organization's operational activities.
In practice, following Good Manufacturing Practices, the selection of suppliers of raw materials and all other components and supplies used for the manufacture of cosmetic products should be carried out following written and approved procedures that follow quality criteria. The criteria for selection of suppliers should not be based solely on commercial aspects and the organization should have a written, controlled and approved quality list of suppliers.
Deviations, complaints, and product recalls
Each organization must have a system in place to deal with deviations that occur anywhere in the operations supply chain. And the organization must be able to coordinate the admission of customer complaints, investigate those complaints until a satisfactory solution is found, and have the capacity to carry out an effective recall of the affected products.
In practice, an organization that follows ISO 22716 should determine the appropriate steps to take to manage complaints and claims, as well as develop criteria for when to perform a product recall and when not to. Withdrawal procedures should be controlled and documented and when a withdrawal of a cosmetic product is carried out, actions taken should be recorded and traceability of manufacturing batches ensured.
Continuous improvement
Internal audits are a basic tool to ensure continuous improvement since they allow us to document, evaluate, solve and avoid future non-conformities.
In addition, organizations should be aware of current practices in their sector and pursue continuous quality improvement in their operations and throughout their supply chain.
In practice, risk assessments, audits, and supplier evaluation should be planned and organized on a regular basis.
The European regulation of cosmetics and ISO 22716
The EU now has a harmonized regulatory framework, defined in Regulation (EC) 1223 of 2009, which applies to manufacturers of cosmetic products.
This regulation dictates obligations to be complied with in all the countries of the Union, which are harmonized with the Good Manufacturing Practices of Cosmetics.
La Comunicación de la Comisión UE 2011 / C 123/04 de abril de 2011 para la aplicación del Reglamento (CE) 1223/2009 destacó la importancia de la norma ISO 22716 para aquellas organizaciones que deben cumplir con las GMP.
The Commission Communication EU 2011 / C 123/04 of April 2011 for the implementation of Regulation (EC) 1223/2009 highlighted the importance of ISO 22716 for those organizations that must comply with GMP.
The benefits of ISO 22716
In addition to demonstrating the organization's commitment to quality and safety, for consumers and/or customers, additional benefits include
Demonstration of quality control, good manufacturing practices, and hazard and risk management: ISO 22716 helps organizations to comply with the principles of Good Manufacturing Practices, and to control the hazards and risks associated with cosmetic products, ensuring continuous improvement throughout the supply chain.
Supply chain management: ISO 22716, is internationally recognized for enabling organizations to manage quality and safety compliance in the supply chain of cosmetic products.
Risk management: the standard is designed to help organizations identify, control and manage risks, using system auditing.
Regulation and legal compliance: ISO 22716 has been written by industry professionals who are knowledgeable about the regulation and legal obligations to which organizations in the sector are subject. Thus, the standard helps the organization to maintain current compliance, but also to anticipate legal requirements and regulations applicable in the future.
The management processes: they are present from the beginning to the end of the standard. This includes raw material manufacturers, producers, distributors, importers and exporters of cosmetic products.
Easy implementation and integration with other ISO standards: organizations of all sizes and complexities can implement ISO 22716, which has also been designed to integrate easily with other standards such as ISO 9001, ISO 14001, and even the European Regulation 1223, which regulates the activities of companies in the sector.
It adds value to the organization: by complying with major market requirements, industry organizations conform to international standards, which allows them to enter regulated markets worldwide.
At Oqotech we help companies in the cosmetics industry to adapt their facilities, computerize their processes, configure document management systems, equipment validation, and GxP compliance.